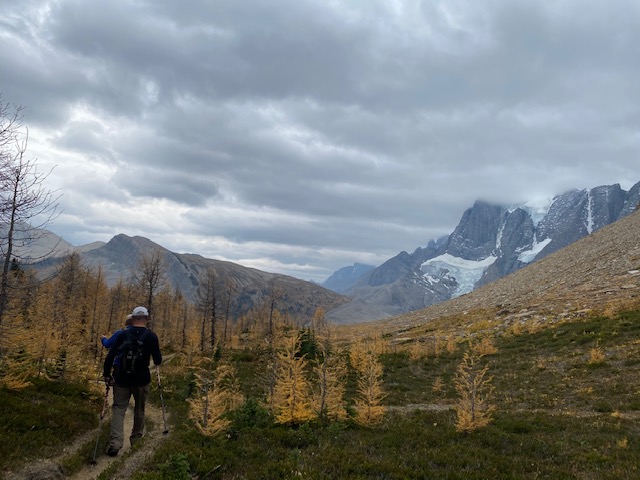 As I write it's Spring and the snow is surely melting.  At this time of year we get excited about gardening, new calves, the prospect of new visitors and we start thinking about hiking.  There's so much in the area in addition to the well known hikes in the surrounding National Parks that we always try to make a plan for where we want to hike in the summer ahead.  The season is short and the weeks pass quickly when there's so much to do.
Favourite Hikes in Golden
Some of our favourite hikes are Balu Pass in Glacier National Park, the Ice Line in Yoho National Park and Sentinel Pass in Banff National Park, but they do get busy.  Over the years we've found that local hikes around the Golden area are just as beautiful and you frequently never see another person.  The access roads may be a bit rougher, (well, a lot rougher) and the signage may be sporadic (or non existent) but with the help of a local website Golden Hikes some local knowledge and an adventurous spirit we guarantee some phenomenal hiking to be had.
Wolverine Pass
We love to see the larch turn a brilliant gold before they drop their needles.  Lots of people head en-masse to Larch Valley at Lake Louise but it really is over-run and not that relaxing to be honest.  Last Fall we decided instead to hike to Wolverine Pass.  The end of the 7.5km 2-3 hour hike brings you to where people on a 3-5 day hike accessed from the Highway 93 Kootenay National Park side aim for!  You will see the Tumbling Glacier, Rockwall and Vermillion River Valley below – and walk through the most amazing wide vistas of golden larch. About 40km of driving on a good forestry gravel road takes you to the trailhead.  You begin following the north bank of a creek crossing several slide paths.  Then you cross the creek and slowly start to climb up through old forest paths and up to the alpine, eventually crossing into Kootenay National Park.  We got snow, rain, sun, spectacular views, golden larches and saw not one person that day in early October 2020.   You can find more detail including access road and google map directions here Wolverine Pass
Kicking Horse
A moderate hike to a grassy peak with outstanding 360 views is the T2 hike at Kicking Horse Mountain Resort.   Most of the elevation to reach here is done by taking the gondola to the top at Kicking Horse.  From there enjoy the views the whole way to the well signed T2 in only an hour maximum. You'll find it hard to find a nicer spot for a picnic on a sunny day.  There is a T3 and a T4 for those who want to ridge walk a bit farther.  For those who have the option of leaving a pick up car in Nicholson you can go all the way to T4 and descend to Canyon Creek.  Alternatively if you wish to spend the time around the resort peak at Kicking Horse there are a couple of other hiking options and you can take the gondola back down to the base.  T2 at Kicking Horse